Compact Dry Salmonella SL | Nissui
Compact Dry Salmonella SL | Nissui
Manufacturer: Nissui - Japan
Packing: 4 units/pcs
Pre-enrichment w/BPW: 35°C - 37°C @20-24 hours
Incubation Time: 41°C - 43°C @20-24 hours
Interpretation: Yellow: motility of Salmonella, Black: hydrogen sulfide producing Salmonella, Green: Chromogenic substrate with specific enzyme on Salmonella


Salmonella is a genus of gram-negative bacteria comprised of only two (2) species, s. enterica and s.bongori. Together, they have more than 2500 serovars, most of which are pathogenic. Historical reservoirs are birds or poultry but has been isolated in pet, reptiles, and low water activity food such as spices and flour. Based on the standard set by the food and drug administration, salmonella should be totally absent in all food and environmental samples. No tolerable level was set because it has a low infective close that can lead to fatal diseases. salmonella infection is caused by cross-contamination during evisceration of animal, washing, and transportation of carcasses and can also occur during raw material preparation. Thus, environmental monitoring procedure should be present in industries like poultry because it is highly susceptible to the contamination.

Therefore, the Salmonella testing process is recommended, and the Compact Dry Salmonella bring convenience to the user because of the advantage of no need to prepare environmental chemicals, tools, and consumables. Complex wear. All technology used for this Compact Dry Salmonella is pre-poured medium. And the user only needs to extract the sample, put the sample into a dish and incubate. AZ LAB Co., Ltd. is currently the official distributor of Nissui Compact Dry in Vietnam.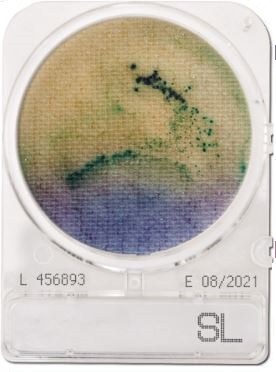 Result Interpretation
* Salmonella Positive
1. Black to green isolated or fused colonies
2. Medium around the colonies changes to yellow
3. Tailing due to motility
* Salmonella Negative
1. No change in plate color
2. Red or reddish purple colonies
NOTE:
too high Salmonella count - Plate turns completely yellow without isolated colonies; spot of fused black and green colonies are present.
Procedure
- Aseptically weigh 25.0g or pippette 25.0ml sample to appropriate sterile container (i.e stomacher bag, dilution bottle, whirl park bag).
- Add 225.0ml diluent and homogenize. Suggested diluents for Salmonella parameter are Buffer Peptone Water and other appropriate diluents depending on BAM.
- Incubate at 36 ± 1
0
C for 20-24 hours
- Obtain 0.1ml of the pre-enriched sample and inoculate it at approximately 1cm far from edge of Compact Dry Salmonella. Then, add 1.0ml of sterile distilled water on the opposite of the inoculum. Recap the plate.
- Invert and incubate the plates at specific incubation condition.
Manufacturer's recommendation:
42 ± 1
0
C for 22 ± 2 hour.
- Read results.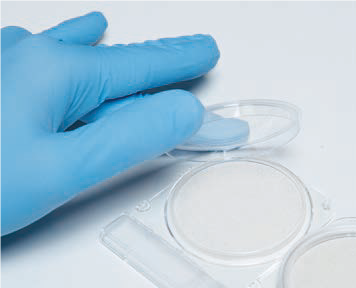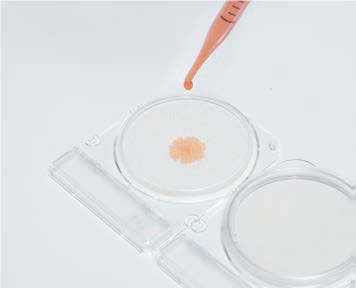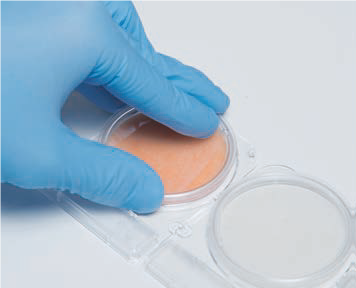 AZ LAB Co.,LTD is currently the official distributor of Nissui Compact Dry products in Vietnam with all the following criteria: Total Count (TC), E.coli and Colifrom (EC), Enterobacteriae (ETB), Vibrio parahaemolyticus (VP), Bacillus cereus (X-BC), Yeast & Mold (YM), Staphylococcus aureus (XSA), Enterococcus (ETC), Pseudomonas aeruginosa (PA), Salmonella (SL), and Listeria.
​
http://azlab.vn/en/shops/compact-dry/compact-dry-nissui-distributor-az-lab-in-vietnam.html
Products in this Category