A mustard allergy will affect your sinuses, lungs, digestive tract and skin. Right after eating your sinus mustard can be blocked and you may have a runny nose. Your lungs will become hot, causing shortness of breath, chest tightness, coughing and other asthma symptoms. Your skin may be irritated, inflamed, inflamed and red. Common skin rashes due to mustard allergies include eczema and rash. Because of the above danger symptoms, the control of mustard allergens from mustard is extremely important in food quality control. AZ Lab Company would like to introduce to you a product that helps to screen this indicator in food processing.
Rapid test allergen from mustard - AlerTox Sticks Mustard Seeds KT-6370 Biomedal is highly appreciated for its compact design, user friendliness and reliable test results.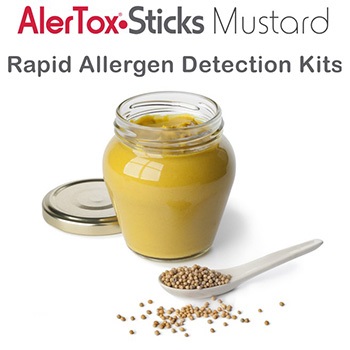 Advantages of using a quick test allergen from mustard
- Provides reliable results in less than 10 minutes
- Easy operation, no need to use any special equipment
- A cost effective test solution
- Simple, handy, safe
- Good support for commercial kitchens, food production facilities ...
- Help ensure the criteria of food hygiene and safety
* Information about product:
Rapid test allergens from mustard | AlerTox Sticks Mustard Seeds | Biomedal
- Manufacturer: Hygiena Biomedal - UK
- Product code: KT-6370
- Detection limit: 2ppm
- Detection time: less than 10 minutes
- Packing: 10 Strips / box
* Application in environments:
- Vending Machine.
- Production facilities.
- Kitchen.
Any detailed request about the process of the product or quotation, please contact us for the best solution!
Products in this Category